Are you looking for a road trip getaway this fall? From the beautiful fall foliage to fun events and activities, this list has ideas for all ages. The weather on the East Coast has cooled down from the hot summer – just in time for jeans, jackets, and pumpkin spice! In this article, learn about the 7 best road trips from NJ during the fall.
If you need help funding your trip – no problem! Members 1st of NJ has vacation loans for up to $3000 to make your road trip possible. 
Niagara Falls – NY/Ontario
Road Trip Distance from NJ = 7 to 8 hours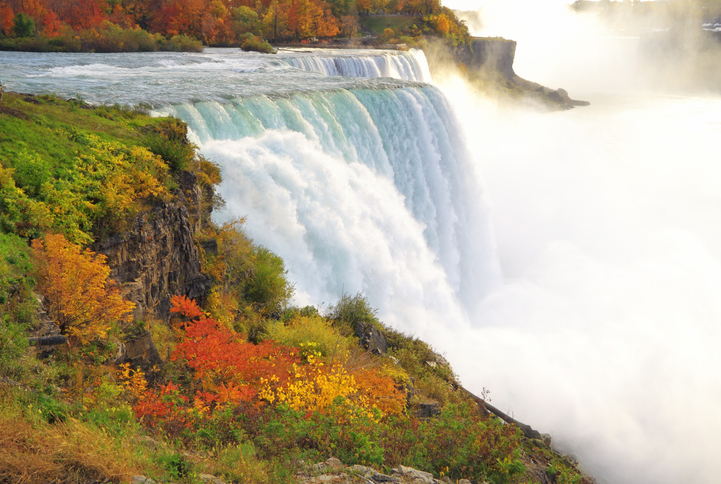 A road trip from NJ to Niagara Falls during the fall season is truly a magical and picturesque experience. As you embark on this adventure, be sure to embrace the vibrant fall foliage that surrounds your journey. Start by taking leisurely stops at charming towns and roadside apple orchards along the way. 
Once you reach Niagara Falls, witness nature's masterpiece in all its glory, with the cascading waters framed by colorful hues of the changing leaves. Enjoy a scenic boat tour, like the iconic Maid of the Mist, for an up-close encounter with the waterfalls. Make sure to dress warm during the crisp air of fall!  While you're in town, don't forget to take a walk around Niagara-on-the-Lake, a historic village and the "heart of Ontario wine country." 
Acadia National Park – ME
Road Trip Distance from NJ = 9 to 10 hours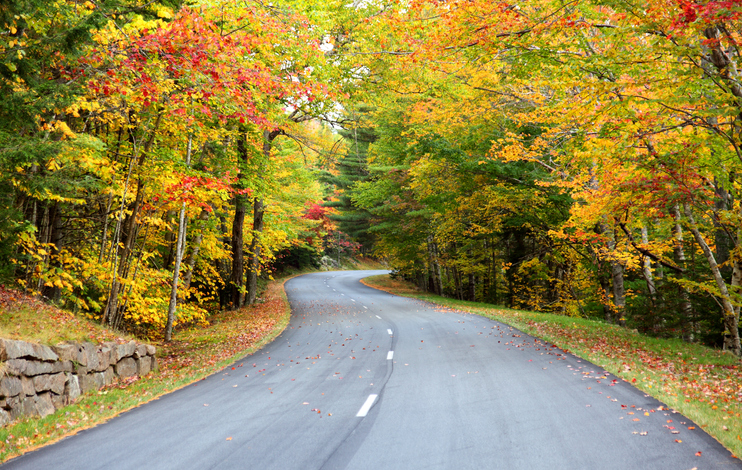 Acadia is one of the top 10 most visited US national parks and a stunning area for hiking and biking through trails of fall foliage. Start your journey by hiking the iconic trails, like Cadillac Mountain and Jordan Pond Path, to see the vibrant reds, oranges, and yellows of the leaves. You can also drive along Park Loop Road for a scenic ride. 
While you're in the area, make sure to stop by the Bar Harbor area for fresh lobster and seafood at one of their local restaurants. Be sure to check out what events are happening while you're there – like festivals, farmers markets, and live music. 
Louisville, KY
Road Trip Distance from NJ = 11 to 12 hours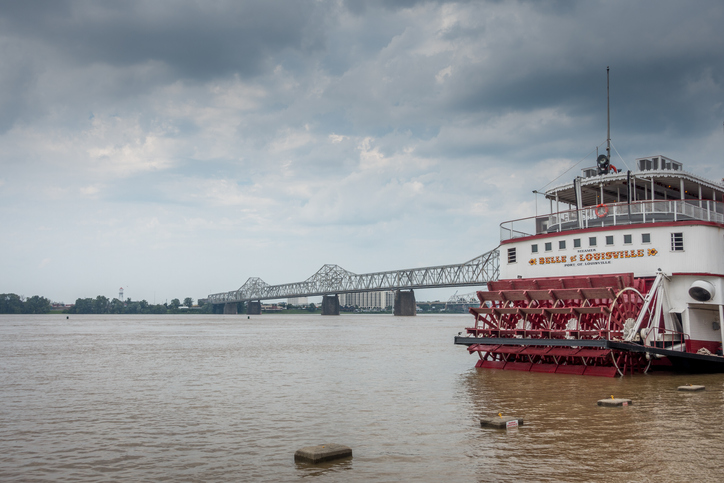 Louisville is home to the Kentucky Derby which is held in May, but they have events all throughout the year. During the fall, you can watch the Churchill Downs for some exciting horse races. These are great events for all ages. 
Kentucky is also known for its bourbon. You can book a tour at one of their distilleries along the Kentucky Bourbon Trail. Enjoy a whiskey neat or on the rocks on an outside patio as you soak in the beauty of fall. If you're looking for adventure, you can take a unique underground zip-lining tour at Louisville Mega Cavern. 
Louisville has a great dining scene, so be sure to check out one of their many local restaurants. For a food and leisure activity, take a boat tour on the Belle of Louisville on their sunset dinner cruise. The road trip from NJ to Louisville is a longer day, but worth it with all there is to do and see!
Pocono Mountains – PA
Road Trip Distance from NJ = 2 to 3 hours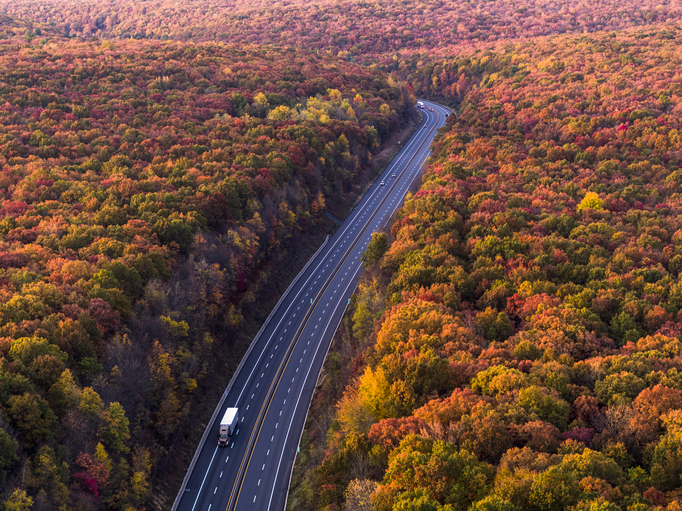 A road trip from NJ to the Pocono Mountains during the fall season offers a variety of outdoor activities and natural beauty to enjoy. Start by exploring one of their numerous hiking trails, such as the Appalachian Trail or the Delaware Water Gap. Don't miss the opportunity to take a scenic drive along Route 6, which offers breathtaking views. 
The region is also known for its many lakes, like Lake Wallenpaupack, where you can go boating, fishing, or simply relax by the water. For a family-friendly experience, visit Quiet Valley Living Historical Farm, during their harvest festival for pumpkin picking and fun activities. 
Nashville, TN
Road Trip Distance from NJ = 13 to 14 hours
We know this is a further drive, but it really has to be on this list of best road trips from NJ. Known as "Music City," Nashville is home to many current and upcoming country artists and artists in other genres – and the fall is a great time to visit with the cooler weather. While you're there, you can take in a live concert, or schedule a tour at the Grand Ole Opry, where only the best of the best music artists perform. 
For some delightful food and live music, visit Jimmy Buffet's Margaritaville for burgers and drinks, or Jason Aldean's Kitchen + Rooftop Bar during the crisp, fall air. For a unique food experience, we recommend Monell's at the Manor for a southern homestyle meal. You sit with strangers and leave as friends as main dishes and sides are passed around family style. 
If you are a country music fan, you will enjoy all the activities Nashville has to offer.  Don't forget to visit this list of famous celebrity houses in Nashville to see where some of the artists like Tim McGraw and Carrie Underwood live! 
Virginia Beach – VA
Road Trip Distance from NJ = 6 to 7 hours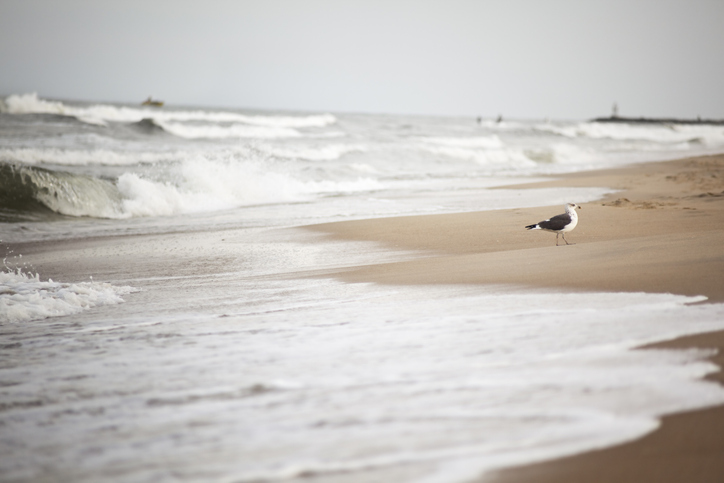 A road trip to Virginia Beach during the fall season brings a relaxed atmosphere around the beaches. With less crowding compared to the summer months, you can take leisurely walks along the shoreline, collect seashells, or read a book with the tranquil sound of crashing waves in the background. 
Take a bike ride along the boardwalk or hike the trails of First Landing State Park. You can also enjoy the wildlife and hiking trails at the Back Bay National Wildlife Refuge. 
If you enjoy breweries, we recommend Commonwealth Brewing Company during their Oktoberfest events, including tasty pumpkin beers. 
Washington, D.C.
Road Trip Distance from NJ = 3 to 4 hours
A road trip to Washington, D.C. offers a unique blend of cultural, historical, and outdoor experiences. Visit some of the world-famous landmarks like the Lincoln Memorial, the Washington Monument, and the Smithsonian museums at the National Mall. 
For a scenic area, take a stroll around Tidal Basin, where the leaves from the cherry blossom trees change colors in the fall. You can also enjoy a nice bike ride along the C&O Canal.
If you're looking for some cultural experiences, there are a variety of theater performances, art exhibitions, and music events. With so much to see and do, Washington, D.C. makes a great road trip destination from NJ. 
Members 1st Wants to Help as You Plan Your Road Trip from NJ!
We know that vacations are costly, but that shouldn't hold you back from taking a vacation break! Enjoy any of these road trip destinations with a Members 1st Vacation Loan of up to $3000. Take advantage of low-rate financing through your local credit union. 
Not a member yet? It's easy to join! If you work for any of our Member Employer Groups, you are eligible to join. Contact us or visit one of our branches for questions!