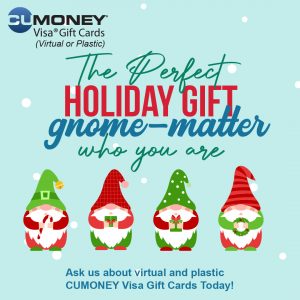 The perfect holiday gift gnome-matter who you are.
Easily find the perfect holiday gift for every one-of-a-kind person on your list with CUMONEY® Visa® Gift Cards (virtual and plastic). Select our virtual option to share a gift card instantly or choose your delivery date.
Relax more this holiday season with CUMONEY Visa Gift Cards that offer:
An easy way to budget for holiday costs
A simple way to find everyone on your list the right gift
Peace of mind with a safer alternative to cash
Only $3.00
Plenty of design choices to choose from
This holiday season, take advantage of t the new enhancements to the CUMONEY mobile app!
Manage virtual or plastic CUMONEY Cards with the mobile app
Easily link a card to a mobile wallet directly from within the app
Secure a card with On/Off feature, set transaction limits and restrictions
Accepted everywhere the Contactless Symbol is shown
Thanks to tokenization, it's easier than ever to budget and shop for the holidays!
For details on how you can digitally load funds to your card and make ATM cash withdrawals, please click here.
Pick yours today at any of our branch locations!