#FeelGoodFriday: Teacher Mini Grant Experience
Last year, we awarded 25 teachers with mini grants in order to fund a classroom project for their students. In order to be considered for the mini grants, the teachers had to apply and explain what their project would entail.
Some of our  previous recipients recently shared their experience with us and we couldn't be happier knowing that we are successfully upholding our belief in "People Helping People".
Lori, from Salem Middle School, shared:
"Thanks to the grant money from Members 1st of NJ my class has had a wonderful time growing and experimenting with the hydroponics kits that we were able to purchase! We grew a variety of plants and, as you can see from the pictures, compared the plant growth in the hydroponics system with plant growth in ordinary soil. The students had a lot of fun and learned a lot from them!"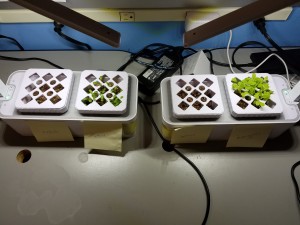 Amy, from Cumberland Regional High School, shared:
"I wanted to let you know how your 2018 Teacher Mini Grant helped create our collaborative Frida Kahlo portrait out of pushpins. We are a little more than halfway done. Close to 70 students participated in the project so far. We are only using, red, yellow, blue, black, and white pushpins and it visually blending to become a pretty cool portrait (45″ by 60″). When we are finished in the fall, I will send you the final results. Thanks again for your support!".
---